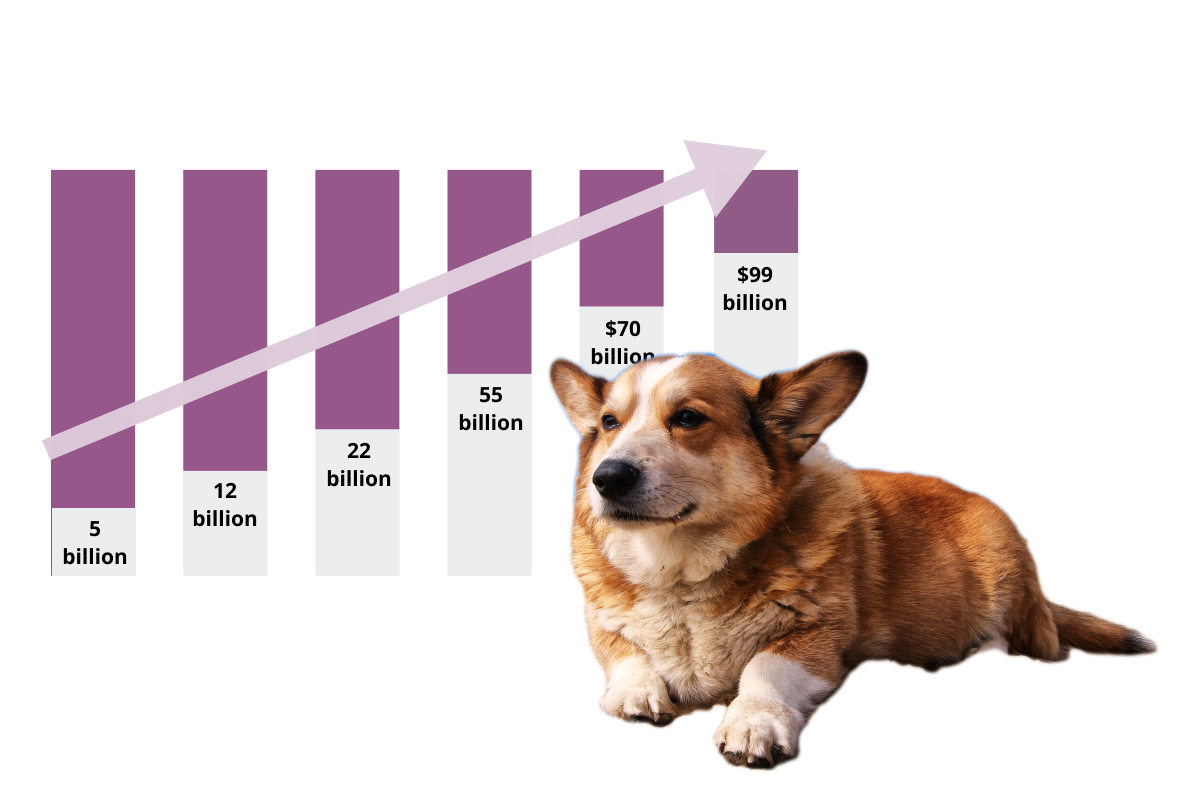 How to start and grow a pet business?
There is one thing always stable and thriving regardless of the economy: the pet business. 
Pet stores have actually shown revenue growth during recessions, as owners have cut back on their spending before reducing the standard of their pet's living. Furthermore, the whole pet industry is growing because most people want to spoil their pets in every possible way.
As long as the customer's satisfaction depends on their pet's overall happiness, your pet business can be recession-proof. If this sounds like a good idea to you, you are barking under the right tree! This article will help you start your own pet business and grow it into a profitable brand, so make sure to keep reading.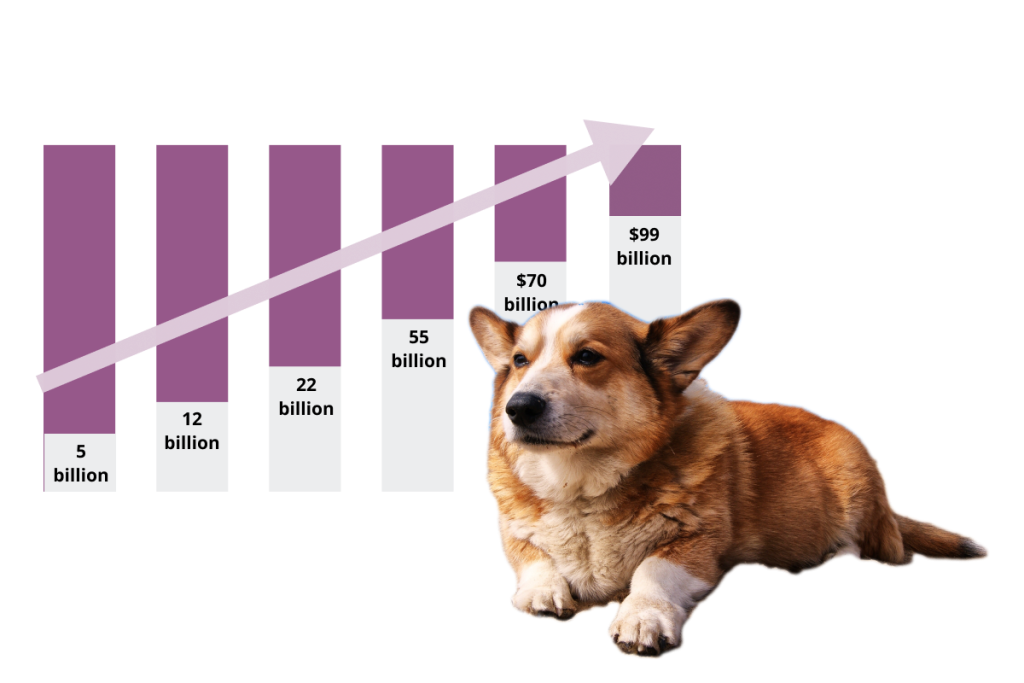 #1 Pick products or services you will offer

Pet business is a massive industry. It rose $1.5 billion in only one year – from $97.5 billion in 2019 to $99 billion in 2020! So first you need to decide what market segments are best suited for you before going into some detailed planning.  
It may sound tempting, but we strongly advise against offering everything for pets you possibly can, but rather to focus on niches that tend to grow even in difficult times. You can grow your business and expand the offer overtime, but start with small steps that minimize the risk and maximize potential profit. 
Here are the top 4 niches in the pet business that are most profitable.
Pet supplies

The pet shop usually offers supplies needed to maintain the pet's health and happiness, from food to supplements. Some stores have integrated veterinary clinics, and others have adoption centers to raise the brand's value. 
Since pet food is consumable and needs to be refilled every month, you have the perfect opportunity to offer loyalty cards to engage customers to always come back for more.
You can expect the average profit margin from a retail business that sells pet products to be around 35%-45%. Of course, this is determined by common factors such as the products you sell and their operating costs. These are the pet products with the highest sales margins:
Treats and toys
Cat scratchers
Automatic cat toilets
Cages for rodents
Clothes for dogs
Aquarists
Keep in mind that traditional methods of feeding pets are gradually changing, and more and more pet parents are deciding to buy pet supplies with premium quality for their pet activities, which further promotes the growth of consumer demand for pet supplies.
In addition, the market for organic food is constantly growing, and even pets are not immune to increased awareness of healthy eating, so consider including healthier alternatives in your pet supplies.
Pet sitting

People often have to travel and cannot take their pets with them for various reasons, and they do not want to leave them in a boarding house. Is there a better way for owners to travel somewhere knowing that their pets are happy and safe at home? 
Pet sitting is highly flexible: you can strictly offer to sit during the day, on weekdays, or on weekends. The more options you can provide pet owners, the better your chances of getting bookings.
Pet sitting is yet another lucrative segment of the pet industry. Those who work for larger pet-sitting companies report earning between $30,000 and $45,000 a year. On the other hand, independent owners of pet-keeping companies without employees report earning around $57,000 a year.
Dog walking

​​Now that life is returning to normal, more people are no longer working from home. As such, they need someone to help them take their dogs for a walk while they are gone.
Dog walking is undoubtedly a profitable business venture you should consider if you are passionate about dogs. Not only is the demand for dog walks high, but the business also has a relatively low barrier to entry and high margins. Even if you start walking only one dog, be sure people hear about you in the neighborhood very soon. If your service proves itself reliable, your booking will become full very fast so you can hire more dog walkers and scale up your business. You can even build an app to connect customers with dog walkers nearby and give your business a whole new perception. Best of all? Every dog ​​will be equally happy every day when they see you!
Pet grooming

As animals mostly live with their owners inside the home, people need to keep their pets clean. Bathing and brushing the dog in the shower cabin is a mess, so it is much easier for the owners to take their pet to a pet beauty salon and return it seamlessly clean. As a professional pet groomer, you will be responsible for everything from shortening nails, bathing, haircuts to treating skin conditions and much more.
This business has meager ongoing expenses, which means that most of that income goes directly to your pocket. The pet grooming business can bring you anywhere between $75,000 and $100,000 per year.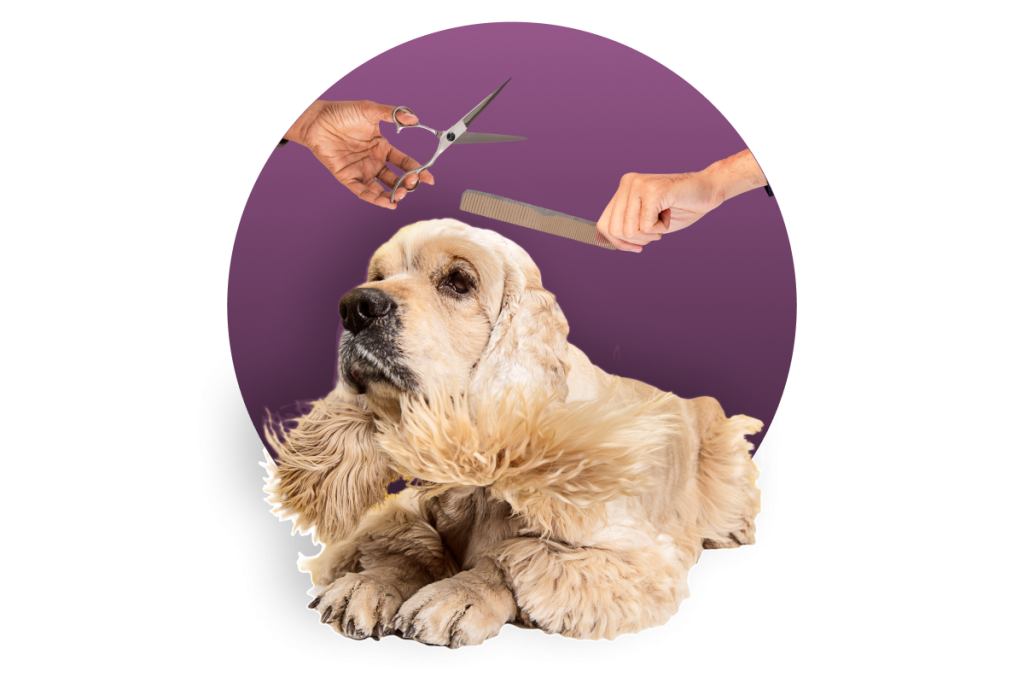 #2 Budget your pet business

The initial costs of starting a pet business varies widely. Product resellers typically need $15,000 to $30,000 to start a pet business, although online retailers can get away with much less. That is because an e-commerce solution for a pet business requires no costs of opening a physical store in a busy area, staff, and management, air conditioning, utility bills, etc. Online location requires a domain name, hosting, and a website.    
When you have these numbers as a cost estimation, the logical question arises by itself – how much profit can you make? On average, a pet store operated by four people makes about $400,000 in sales per year. The average net income of an average-sized pet supply shop is $30,000.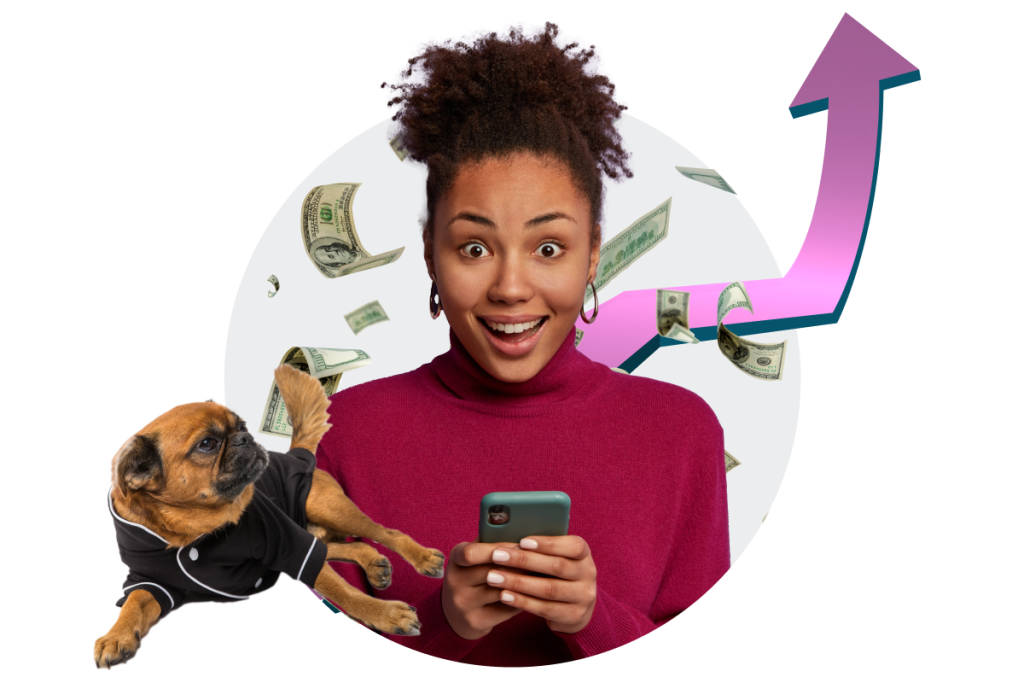 #3 Promote your pet business through various channels

You have defined your niche, registered business, filled product stock, and launched a website. Now is the time to promote your products or services to your target market. There are countless ways to communicate with potential customers and transform them into your brand ambassadors. Still, we will focus primarily on pet businesses' most effective industry-proven methods that will help you take your fair share of the market. 
Make your shop visible on Google

SEO is an especially important long-term marketing technique. SEO stands for Search Engine Optimization; a process of improving your website to increase its visibility when users search for products or services related to your business in Google, Bing, YouTube, and other search engines. 
There are 4 SEO components: 
technical SEO
on-page SEO
off-page SEO
content
The stronger the connections between the 4 SEO components, the better the results. 
Content marketing is one of the essential processes of SEO to keep up, even if you have the first position on Google. You can maintain your website relevancy by consistently adding new content, so your SEO stays updated. 
For example, you can spot customer pain points and offer them a solution, usually as a product or a service, through optimized blog posts. By blogging, you will set yourself up as an expert in your field, and in time your brand will become a recognized authority on the internet. Best of all is that once your business ranks high on search result pages, it will get organic traffic from the right people for free.
Manage your business social media profiles

The more users visit your website, the more SEO rankings go up. That is why social media and SEO can work so closely together. Posting high-quality content on social media will drive your followers to the website. It also provides a way for customers to interact with your business and get social proof of your service's and product's quality. 
Boost your local marketing

Local marketing is essential if you run a local business with pets, such as walking dogs or keeping pets. While you can market yourself in the neighborhood in multiple ways, one marketing tool is vital for local businesses – Google Business Profile.
Google Business Profile (GBP) is an easy-to-use tool for businesses and organizations that allows you to manage your online presence and increase visibility across Google. By claiming your Google Business Profile, you control the information that shows up in Google Maps or Google Search, such as opening/closing times, contact information, and a website link – all at no cost to you. To help customers find your business and tell them your story, you can verify your business and edit your company information.
Connect with the growing mobile app market

At the dawn of 2022, the pet business gained new customers who have a completely different mindset than older generations – Millennials. As they have come into adulthood, they have embraced the pet-loving lifestyle to a far greater extent than their elders and have become a generation of "pet parents." And they are digital natives! Smartphones are the first thing they see in the evening and the last thing before sleep. But why should you care? According to PetPedia, 31% of pet industry customers are Millennials!
The survey also found that:
Almost half of the millennials downloaded a shopping app on their phone
54% like mobile apps because the experience is better than websites
27% shop using apps to take advantage of exclusive offers and discounts
A fundamental property of any retail business is commonly identified as a fast, reliable, and well-designed online store. However, business owners often forget about the mobile app, which can be a mistake that competitors will definitely take advantage of. New research states that businesses with apps experience higher customer return and revenue – even in their physical stores.
One of the primary benefits of mobile applications is their ability to develop a brand commitment. Mobile apps make the connection between online shops and consumers stronger. Remember that these customers already want to use an app, so you can quickly motivate them to install your mobile app by simply proposing exclusive discount rates for downloading application. If you are concerned about how the mobile app will pay off, don't worry. You can always use a mobile app marketing strategy that will help you with that.
We have gathered the most successful techniques to increase the number of app downloads and are pleased to give you an e-book as a gift. Click here to download it today and start earning more tomorrow!
Use power of omnichannel experience

87% of retailers agree that a seamless omnichannel retail strategy is crucial to their business success and prosperity in the long run. It may be the buzzword you hear more and more often, and there is a good reason for that! 
In a nutshell, omnichannel marketing means offering customers a perfect and consistent experience across every channel they can encounter with your brand: including print, email, online and physical store. If communication with your brand is interrupted at some point, the customers will move on to your competitors. 
It is crucial to identify how close your audience is to their destination when looking at the customer journey. Filling a gap from where they are to where they want to be is something that makes a sale, and omnichannel is a tool you most definitely need to be successful in a pet business.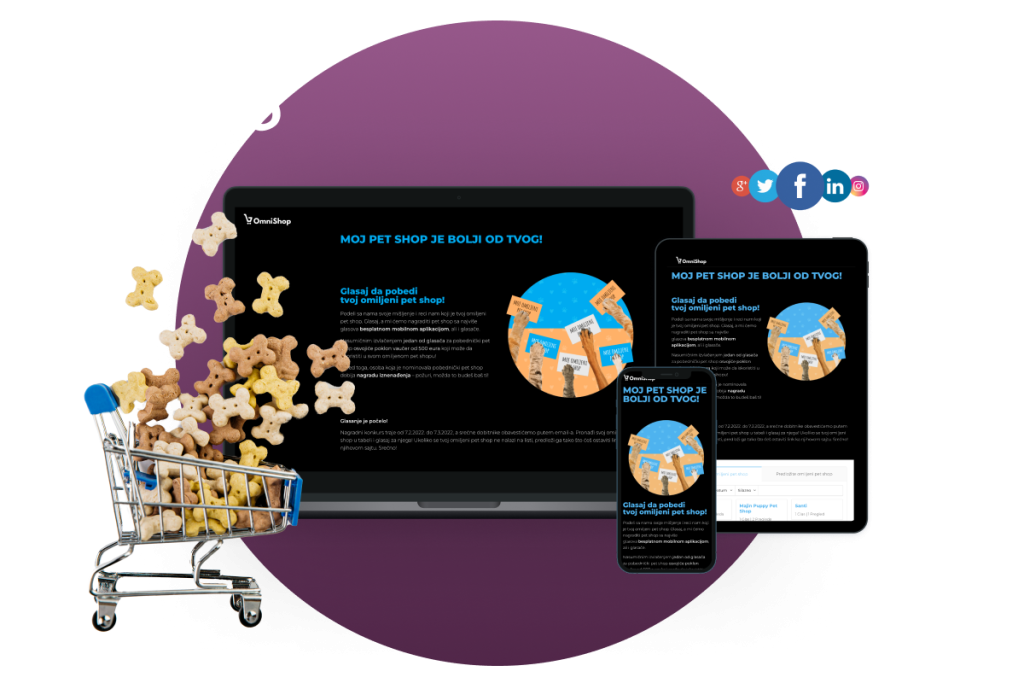 Kickoff your pet business

Everyone's desire is to do a job that fulfills them. If you are passionate about the pet business, the market offers a lot of potential for success. Don't be scared by the prospect of starting your own business. As we stated in this article, creating a sustainable pet business is lucrative and accessible, and if you do it right, you will have a job as long as pet owners want to make their pets safer and happier. 
Remember: you don't have to be alone on this road. Omnishop offers you a FREE 30-minute consultation with our expert if the idea of starting and growing a pet business sounds good to you. So book your free session and let us do the heavy lifting for you!