It's a fact: the boundary between reality and the digital realm is beginning to fade. The more advanced the technology, the more integrated it is into our daily lives. Consequently, customer behavior reshapes dramatically. So yes, shoppers regularly research reviews, compare prices and consult the Internet before purchase, and If your business is not available at every touchpoint, it will undermine your revenue.
You have indeed heard of the buzzword omnichannel before, but what is it? How can it help you meet customer needs and desires to create compelling marketing that sells? Let's find out why 87% of retailers agree that a seamless omnichannel retail strategy is crucial to their business success and prosperity in the long run.
What is omnichannel retail?
A convincing omnichannel experience was once a high-level customer experience offered only by the industry's best. Now it's a condition for your business survival.
Omnichannel marketing means offering customers a perfect and consistent experience across every channel they can encounter with your brand, including print, email, online and physical store. If communication with your brand is interrupted at some point, the customers will move on to your competitors.
It is crucial to identify how close your audience is to their destination when looking at the customer journey. Filling a gap from where they are to where they want to be is something that makes a sale, and omnichannel is a tool you most definitely need, and here's why.
To illustrate how the retail user experience should look, let's take a peek into the #1 beauty company that mastered the omnichannel strategy – Sephora. Their customers can shop, make a wish list, see the purchase history, scan items, watch tutorials, find a store near them, access massive data, and so much more from every customer journey point.
Sephora's "secret" behind its omnichannel success is simple yet far too challenging to mimic.
The reason is that the company has taken a step forward and merged both digital and physical retail teams, resulting in a phenomenal omnichannel marketing strategy. An example of this is Tap & Try ability, which allows you to scan the product in-store and try the product on virtually. You can even virtually try the product in a physical store and then purchase it from a mobile app; it doesn't matter. Customers can do the same thing across every interaction with a brand.
And they didn't stop there.
The company constantly listens to its customers. They utilize other beneficial features such as loyalty programs, product recommendations, checkout in under 5 seconds, and Color IQ, which scans customers' skin to match it with the correct cosmetic item – a tremendous pain point for every beauty shopper.
The result is 11 million members who spend around 15x more money on the Sephora brand than the average user.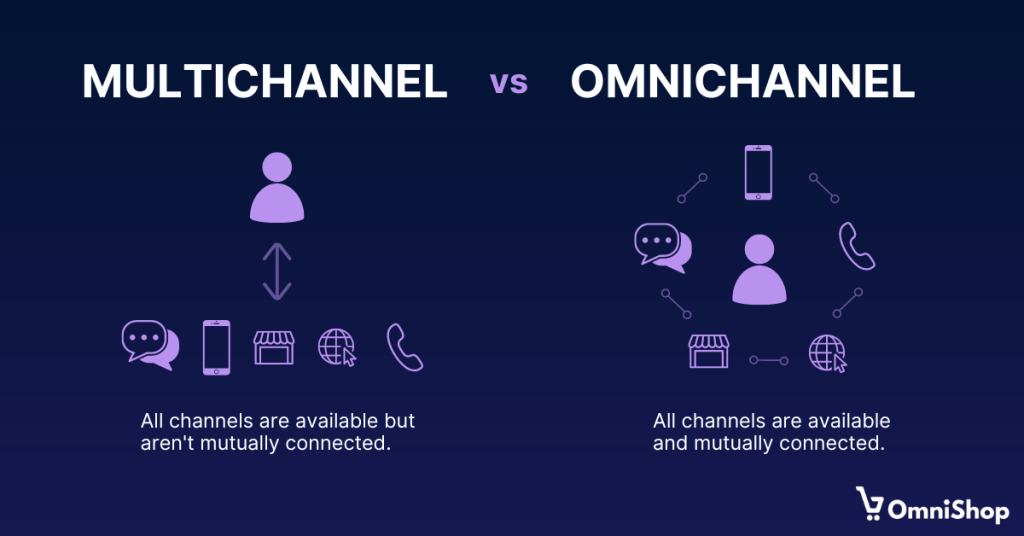 What is the difference between omnichannel and multichannel experience?
There is often confusion between multichannel and omnichannel experiences. The critical difference is that multichannel sales strategy focuses on engaging customers through different channels, while omnichannel concentrates on improving customer experience. Let's summarize this.
Omnichannel experience:
Customer experience
Customer-centric
Customer support quality
Multichannel experience:
Customer engagement
Channel centric
Quantity of channels
Another key difference is that multichannel strategy implies a vast number of channels, but they are not synced. The more channels are available to interact with the brand, the more users will be engaged.
For omnichannel, it's all about the customer. The goal is not to create many communication channels but to provide a seamless customer experience while the customers move from one channel to another.
Is omnichannel marketing strategy for you?
It's not about customer acquisition; it's about retention.
As we already stated in the text above, omnichannel is necessary to boost your sales and business existence. According to recent research, companies with omnichannel retail strategies have customer retention on average 89% from channel to channel. On the other hand, companies with poor omnichannel experience can hope to retain up to 33% of their customers.
If you were to convert it into money, you would realize that you are losing insane amounts every year instead of increasing your annual revenue.
But why do people like omnichannel retailers so much?
The answer is not that simple, but in a nutshell, personalization is one of the main reasons for Omni-popularity. Personalized service in marketing is an absolute must for business growth, especially in the digital field. The Internet is highly crowded, and customers/clients want a personalized user experience tailored to their interests and needs.
Personalization has become the leading brand differentiator, even more than price and product itself.
How to create an omnichannel success for your retail shop?
Yes, it may not sound effortless, but we promise it doesn't have to be. Here's how to implement the foundation for a successful omnichannel strategy that will skyrocket your sales.
Research who your customers are
To create phenomenal omnichannel success, you need to take baby steps. First, get to know your audience well and find out their life and shopping habits – where your customers like to shop, hang out, what motivates them through life, what pain points do not let them sleep at night? Once you know your customer's problems, it would be much easier to offer them a solution.
For example, suppose you are a pet shop owner, and you know your customers regularly forget to refill their pet supplies. In that case, you can offer them a solution in push notifications and placing their monthly orders in a loop! Step further and offer them the same when they come in person to your store, call you or visit you on a website. Give them a reason not only to go to your business but to stay there for good.
Another thing you need to figure out precisely is what platforms, mediums, and devices your customers use daily.
The quickest way to find this out is by looking at the Acquisition reports inside Google Analytics. You can see which specific places are driving people to your business; in other words, you can see how customers discover you and optimize user experience according to that.
Make every interaction shoppable
The foundation of an omnichannel retail strategy is making every point of interaction with your brand shoppable. And the potential for that is almost limitless.
If a customer adds a product to their cart from your website, they should be able to finish the purchase from within the app. Did the customer land on your Facebook page? Recommend them an item directly from your eCommerce store, based on the customer's previous product search.
It may sound like science fiction for a moment, but If you are using one of the most popular CMS WordPress and its eCommerce plugin WooCommerce, things can be done in a few clicks. Check this guide for building omnichannel success with WooCommerce. You have the option to add many plugins for a multichannel approach and even integrate your online store with effective CRM software such as HubSpot.
Get help from experts
Omnichannel is a never-ending loop of customer acquisition and retention, user experience improvement, and return of investment. Yes, you may not have the technical ability to implement an omnichannel strategy, but experts can help you achieve business success with no sweat. Book a completely FREE 30-minute session with our eCommerce team, and let us help you start earning more in just 2 weeks!