How is mobile commerce transforming the future of e-commerce
Mobile devices have changed the way we live and, in 2022, are a part of every aspect of our lives. Furthermore, smartphones have become life managing devices for most of humanity, generating unprecedented amounts of shopper data. Brands and retailers can now discover real-time product development and personalize their targeting.
The recent global health crisis has certainly boosted online sales, leading to a massive increase in visits to the top 2000 North American e-commerce sites, 19% collectively, and 125% on average. The owners of online and offline businesses are increasingly turning to explore the potential of e-commerce, especially m-commerce.
Unsurprisingly, 2021 holiday e-commerce sales grew 11% over 2020, increasing total retail sales by 8.5%.
So, let's explore mobile commerce – what it is, how it is evolving and changing the world of online shopping, and how store owners can get in step with time.
What is mobile commerce?
Traditional commerce got transformed in the 90s, with the rise of the internet and, consequently, the development of e-commerce. At that time, retailers got the opportunity to sell the goods from their stores online, enabling them to reach a much wider audience locally and globally. Mobile commerce was born in the 21st century with the evolution of mobile devices.
So today, we are lucky to be living in a world of mobile or m-commerce: "the buying and selling of goods and services through wireless handheld devices such as smartphones and tablets." Wikipedia informs us that the term mobile commerce was created in 1997 by Kevin Duffey at the Global Mobile Commerce Forum launch. According to his definition, it is "the delivery of electronic commerce capabilities directly into the consumer's hand, anywhere, via wireless technology."
But we'd be wrong to think that buying and selling are all there is to the world of m-commerce. M-commerce includes any monetary transaction completed using a mobile device and doesn't require physical contact between two people to send or receive the money. It covers everything from e-commerce and in-app purchasing to mobile banking and purchasing goods using a digital wallet. The variety of transactions covered by m-commerce can be categorized as one of three types:
Mobile shopping – now possible through websites optimized for mobile, dedicated apps, and even social media platforms
Mobile banking – usually involves a dedicated app, although some transaction types are limited or restricted on mobile devices
Mobile payments are becoming an industry all of its own
M-commerce certainly evolved the world of e-commerce, enabling anyone to buy and sell goods or services from almost anywhere, only using a mobile device. It also enhanced the growth of existing industries and services and triggered the development of some new ones, including:
Mobile person-to-person payments (Venmo or Xoom)
Electronic tickets and boarding passes
Digital content purchases and delivery
Mobile banking
Contactless payments and in-app payments
Location-based services
Mobile marketing, coupons, and loyalty cards
Advantages of m-commerce in 2022
Why are consumers turning to mobile shopping
Early mobile commerce focused on selling and purchasing ringtones, logos, and songs. Today, the predominantly sold items are related to fashion, beauty, and lifestyle industries: clothes, make-up & cosmetics, and home & living. Consequently, mobile shopping has become a vital revenue stream for online retailers as an effective channel to reach potential customers and boost sales.
Shifts in consumer power and preference around efficiency and speed intersect with technological, economic, industrial, and societal factors to accelerate retail's transformation over the next 5-10 years. Today, consumers prefer mobile commerce sites for the majority of their time. This results in innovation that drives brands and their customers away from physical stores and further toward digital commerce and convenience.
However, m-commerce does not drive shoppers away from physical stores in its entirety. It turns out it improves the offline shopping experience. Shoppers use their phones and m-shopping services before visiting a physical store to:
get inspiration
find a specific product or brand to buy
plan a trip to the store
find locations or closest stores
narrow down the choices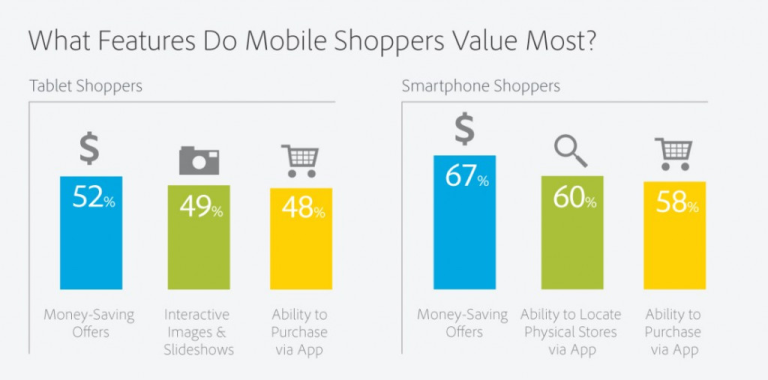 But what ultimately drives customers to mobile shopping is convenience. It is unnecessary to go to the store and wait in line anymore. They can browse and view products, compare prices, buy, share purchases, or favorite items with friends without leaving their home or while doing any other activity.
Shoppers are also engaged by loyalty and reward programs that retailers offer permanently to attract people. They love coupons, rewards, and discounts. Mobile shopping apps gave way to customer empowerment – they can have a pleasant shopping experience whenever and wherever they want via their mobile phone.
Benefits of m-commerce for shop owners
A mobile shopping app is an excellent additional tool for shop owners to engage customers and offer a great user experience. Incorporating mobile commerce into online sales strategies needs to happen sooner than later. By learning how m-commerce functions, using the right platforms and jumping on trends early, store owners can quickly gain an edge over the competitors. But what does it bring to their business and customers? For starters, 85% of consumers prefer mobile commerce apps to mobile websites and here is why:
Better customer experience and faster purchases. Compared to mobile websites, apps have 1,5 times faster data and search results loading time. As there is no need to pull data from a server, customers can browse and purchase products faster, and this is just a part of the smooth user experience that mobile shopping offers to customers.People mostly appreciate speed and simplicity and want to finish their tasks quickly and without obstacles. Creating a fast and convenient mobile app makes the overall buying process much more comfortable and faster. Making it interactive and adding some exclusive content (coupons, discount notifications, etc.) ensures a user experience that will keep shoppers happy.
Direct channel of communication with customers. 50% of users like notifications, and 80% say offers and rewards make them more loyal to a brand. Push notifications are an opportunity for sellers to communicate directly with their customers. They can send direct alerts about new products, updates, discounts, and promotions. Most people want exclusive stuff and perceive informing about news or deals as care. All this leads to better engagement, expanded reach, and customer loyalty and brand awareness.With mobile apps, brands also can deliver personalized content to customers based purely on individual preferences and shopping patterns. User location, interests, social media profiles, items viewed, etc. can all be utilized to bring people what they need.
Omnichannel customer experience. It is vital that brands and shop owners are listing their products wherever consumers are spending their time. 73% of shoppers are so-called omnichannel customers. They use multiple channels during their customer journey, including mobile apps, to download a coupon or compare prices. Only 7 percent of the people are web-only shoppers, and 20 percent make purchases inside a store.Mobile commerce makes it easy to merge online and in-store experiences. The shopping cycle should combine the buyer experience across channels, including desktop, mobile, and any in-store placements.

A great example of this is luxury retailer Neiman Marcus lets consumers use its "Snap. Find. Shop" app to take a photo of a product they like inside their brick-and-mortar store. It is then used to search the Neiman Marcus database and see if something similar is available to buy online.

Detailed analytics. Depending on the business strategy and a budget available to make an app, business owners may set up user analytics of various sophistication levels. User data helps with understanding the target audience, which consequently can lead to increased sales. Knowing customers demands data, at least fundamental information like age, sex, location, and shopping history, but analytics can provide anything from names, phone numbers, emails, to buying patterns in store.The effects of having access to more in-depth analytics from mobile apps are rich customer data, shopping patterns and behavior, trends, and better forecast options.

Walmart app used by 22 million customers every month, uses mobile data, online data, and sales data combined to deliver better customer experience.
With convenience, speed, and personalization at the heart of mobile commerce, modern shoppers have an enticing shopping experience.
M-commerce trends to watch and capitalize on in 2022
79% of smartphone users have made a purchase online using their mobile device in the last 6 months, and the global share of m-commerce in e-commerce has increased to 72.9%. Those numbers make the owners of online and offline businesses very interested in understanding and exploring the potential of m-commerce. Retailers and brands are already investing thousands of dollars into incredible mobile experiences.
So, what are the trends in 2022 m-commerce that need to be considered?
Meet the chatbot. One of the latest trends in m-commerce is integrating chatbots into mobile apps or websites. Chatbots are enabling brands to reach and engage with customers in real-time. e-Bay, Nike, and H&M, for example, have developed AI-based chatbots that can communicate in a human-like way with the customers.However, this is an expensive option that requires development knowledge. Still, businesses have realized the potential of communicating with their customers through services like Facebook Messanger, Instagram Chat, WhatsApp, or Telegram as people already rely on these apps to stay in touch with their friends and family. Pizza Hut, Starbucks, and Uber use this technology to suggest products and take orders from their customers.
Social commerce. More and more users are finding the products they want to buy over social media. Retailers begin to implement the one-touch purchase function and develop solutions for quick checkout. The process allows sellers to convert any media element (picture or video) into a shopping catalog. On Instagram, it is possible to put tags on products in published photos, and in this case, users expect minimum friction and literally a quick checkout.The number of social media users will be 2.96 billion by the end of 2020, and in 2021, 54% of all users will be mobile-only.
Augmented reality. This technology uses phone cameras to reproduce digital content into real-world spaces. AR technology allows customers to visualize a product as they would have an opportunity in a physical store or as a part of their own life. IKEA app shows customers how furniture would look in their homes. Glasses e-tailer Eyerim lets people try on the latest models of specs with their virtual mirror app.AR option gives shoppers more confidence in the products they find online as they are showcased precisely the thing they're planning to buy as if they would be in a store.
Omnichannel Marketing. Advertisers can bridge the gap between online buying and in-person retail with omnichannel marketing, with the goal of creating a consistent brand experience. Omnichannel marketing aims to create a consistent user experience and make every channel where customers interact with the brand shoppable. 87% of retailers agree that a seamless omnichannel retail strategy is crucial to their business success and prosperity in the long run.
Mobile payment options
Digital wallets have grown in popularity due to the rising prominence of mobile commerce. Now bulky physical wallets holding different credit/debit cards, gift cards, coupons, etc., are becoming things of the past. Consumers are opting to keep all their payment methods in their mobile wallets. E-commerce businesses can now provide various payment options for their customers rather than just accepting debit/credit cards.
Today, almost every mobile commerce platform offers a range of payment solutions, providing a convenient shopping experience for consumers. People can pay for the orders they place via their credit cards, PayPal, Stripe, or a digital wallet service like Apple Pay or Samsung Pay. Mobile payments have become an industry of its own.
For business owners, simpler checkout and payment, even skipping the need for adding credit card and shipping details, leads to more conversions, more sales, and more repeat business. So one-click solutions that integrate with mobile wallets offer both sellers and shoppers more benefits.
For some brands, like Power Support, choosing the right payment solution shows significant results. The difference in conversions was evident two weeks after installing Amazon Pay. They've seen a 26% increase in orders.
However, mobile payments are taking over even the world of offline shopping. In-store mobile payments are already the primary method in some markets, with a massive 81% of smartphone users in China using mobile payment apps. The forecast is that by 2024, the annual mobile wallet spend will be a fantastic US$9 trillion. The increase in digital wallet payments from 2019 to 2024 will be 80%. And finally, 50% of the world's population will be making digital wallet payments by 2024.
So, implementing at least some digital payment methods is essential for m-commerce business. Eliminating unnecessary steps such as searching for wallets and typing card numbers can be a turning point between retaining and losing customers.
What is the future of mobile commerce?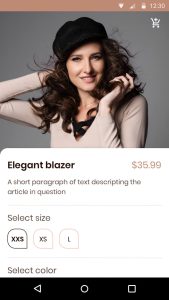 Mobile commerce allows businesses to meet their customers where they spend their time instead of continually attracting them to their stores. With the rise of the internet, traditional commerce evolved into e-commerce, and with the development of mobile devices, e-commerce grew into m-commerce. It presented many new challenges and significant business opportunities for big retailers and small shop owners equally.
More and more brands take care of their customers in new ways, providing exceptional user experiences and shopping journeys. But creating a mobile app for their shop offers them a direct channel of communication with shoppers, which helps them increase customer loyalty and brand awareness. As shoppers are using apps even when shopping in physical stores, retailers are racing to provide them an omnichannel experience, presenting their products wherever their customers might be.
All in all, the future of mobile commerce is bright. Consumers of 2022 keep their money in digital wallets, order their food or ride from chatbots, and try on sunglasses thanks to virtual mirrors before buying them online.
* * *
If you are ready to get one step closer to your customers, Omnishop offers the quickest way to create mobile apps for your online shop. Book a completely FREE 30 min session with our expert and start earning more in 2 weeks!