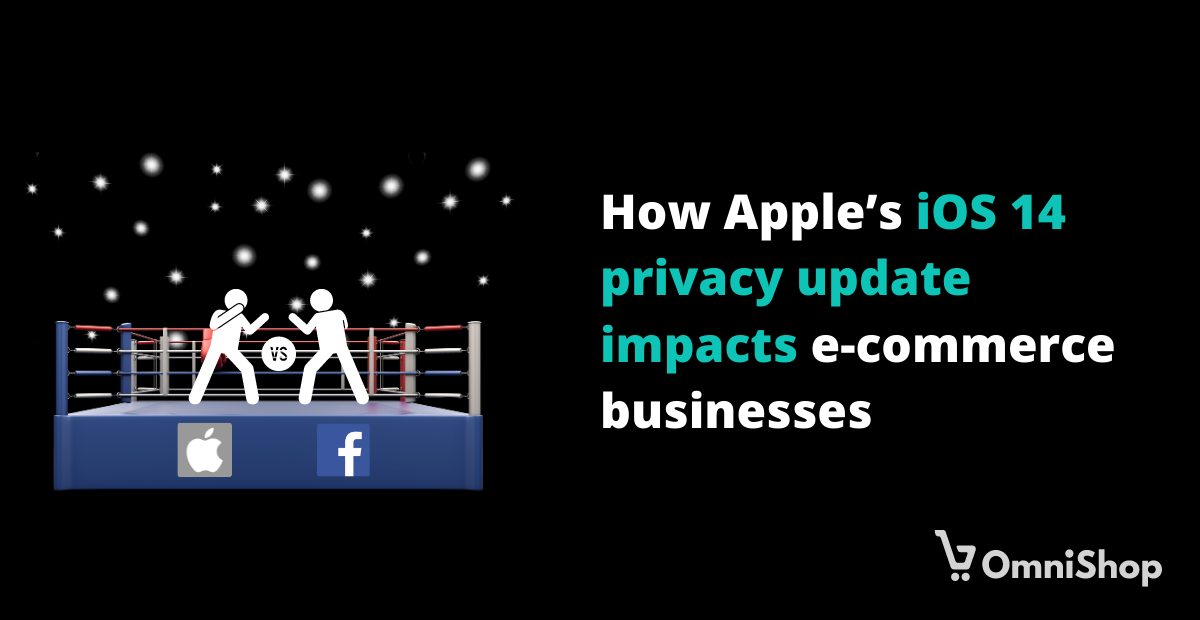 How Apple's iOS 14 privacy update impacts e-commerce businesses
Apple's iOS 14 update announced last year had started the battle of the giants even before it was rolled out. Starting in early 2021, Apple began to show Facebook and Instagram App users a popup message so they can opt out of data tracking "across Apps and Websites owned by other companies." So the update requires developers to secure user permission before they can track them across apps. This improvement is apparently meant to help users maintain their security.
Apple's primary revenue sources are electronic gadgets (iPhone, Mac, iPad, wearables) and services. On the other hand, Facebook profits majorly from its advertising. Though both the tech giants' expertise in different fields and their revenue sources don't overlap, the thought process behind their business model does. Apple has always been considered the most secure device that protects your privacy and provides you security. Contradictory Facebook ads have been giving personalized ads and targeted advertising options to its clients without knowing what data has been captured. Apple's new iOS 14 policy strikes at the core of Facebook's business model.
The IOS 14 update called ATT (App Tracking Transparency) gives the user a choice to disable tracking between the apps. App developers will entail taking permission before tracking one's data across apps and websites. Users can get the information about which app tracks whichever data. This is where Facebook comes into the landscape. Facebook personalized and targeted advertising uses the App Tracking feature for targeting the right customers. As IOS 14 updates will give a choice to allow ATT or not, a significant number of users will most probably disable this feature, Facebook ads targeted advertising feature won't be able to hit at the center on the dart of the customers. This change will influence an estimated 900 million Monthly Active Users, as from 2.6 billion active users of Facebook, 900 Million have IOS devices.
For e-commerce businesses whose growth strategies rely on direct-to-consumers relationships, the critical issue now is performance rather than politics. Let's see what you need to know about these changes, how they can affect your e-commerce business, and how to adapt to the situation and continue growing. 
Apple vs. Facebook 
As a reaction to Apple's new iOS 14 privacy policy, Facebook published full-page ads in Wall Street Journal, New York Times, and Washington Post. They argue that Apple is hurting small businesses and publishers who are already struggling in the pandemic. That Apple is not playing by their own rules and protecting their profit and not user's privacy. Facebook's stand is that personalized ads and privacy can coexist and that the damage that iOS is creating is unnecessary.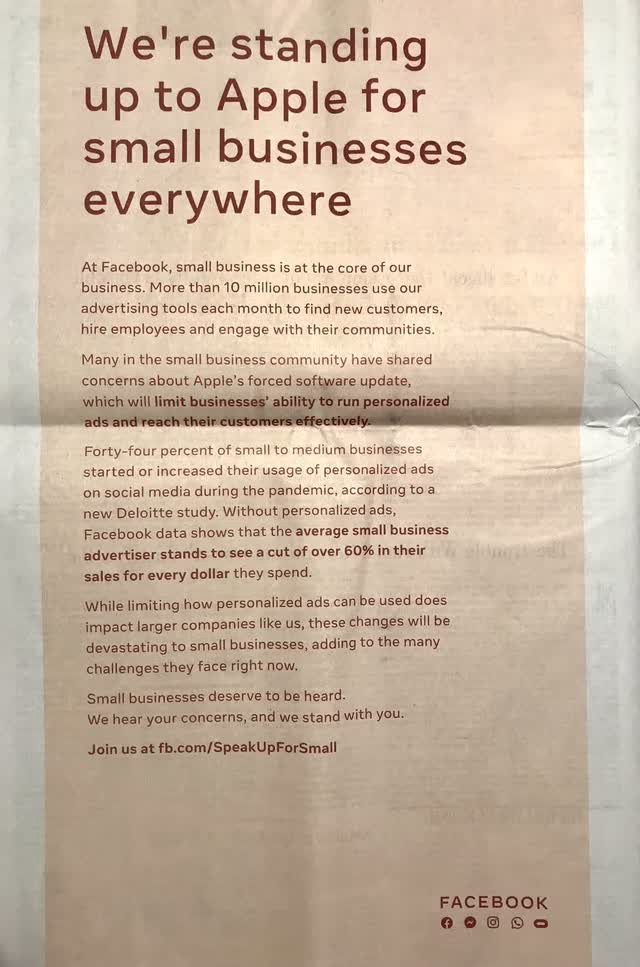 On the other hand, Apple positions as a supporter of promoting its users' privacy and security. And they hit back, stating — "When invasive tracking is your business model, you tend not to welcome transparency and customer choice."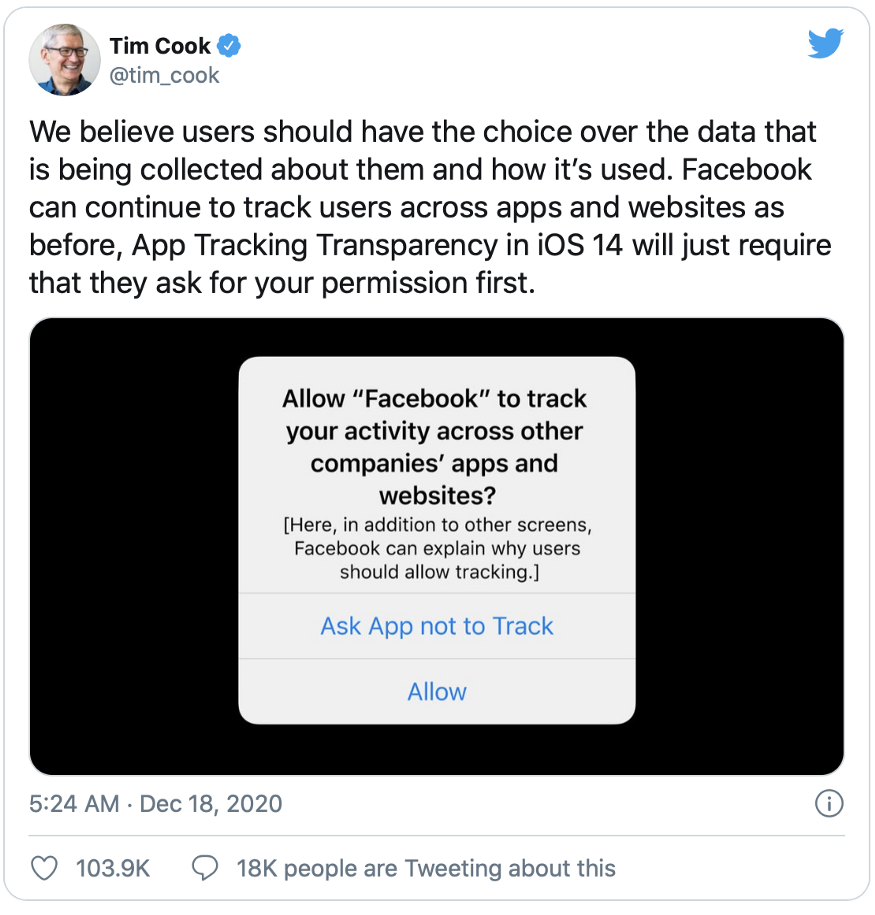 Apple CEO Tim Cook pitched in over Twitter that Facebook is welcome to keep tracking its users, but they should take permission first. Furthermore, Apple emphasizes that the new tracking control features equally apply to all developers, including Apple. The company points out that even with the new App Tracking Transparency feature, advertising is still possible, giving users more control over their data by requiring explicit consent.
But there will hardly be a winner in this battle. Although Facebook is coming up with a misleading argument on the disruption of small businesses, the company is well aware that in the long run, Apple's policy will affect its business model, as 99% of the company's total revenue comes from Facebook ads.
On the other hand, there are speculations that Apple is only trying to deviate the attention from its Antitrust case by promoting the security and privacy of its users.
What does Apple's iOS 14 Privacy and Data Use Update bring?
It all comes down to three acronyms:
– Identifier for Advertisers (IDFA) is a unique code that Apple assigns to each iPhone for third parties to track users for ad-targeting. It replaced Unique Device Identifier (UDID) with the release of iOS 6. On Android devices, this is known as the Google Play Services ID (GPS ADID). Apple's operating system creates the IDFA without a user's knowledge or consent, and it could be used to track and identify users without revealing their personal information. It is like a tracking ID in a mobile phone instead of a browser cookie. For a better understanding of IDFAs, think of them as the user-to-app equivalents of cookies-to-browsers or pixels-to-shoppers. 
In short, on Apple devices, IDFAs track, target, and personalize in-app advertising.
– SKAd Network was introduced by Apple in May 2018. It allows mobile app install attribution while preserving privacy. It refers to how Apple's SDK (software development kit) interacts with advertising. SKAdNetwork is used to receive the attribution of advertising campaigns on iOS. Advertising networks must register with Apple, and developers must ensure that their apps are compatible with the registered networks and the new framework. With iOS 14's privacy updates, app installs resulting from in-app advertising will be mediated by Apple's SKAd Network.
But this change applies predominately to app developers and not e-commerce advertisers.
The SKAd Network provides click-through attribution for Publisher ID, Campaign ID, and Conversion Value (set by the advertiser) and excludes view-through attribution for apps and click-through attribution for browser, email, and non-in-app ads. As a result, Facebook now has significantly less insight into the apps its audience installs and runs, and consequently, so do business owners and marketers.
– App Tracking Transparency (ATT) or "AppTrackingTransparency Framework" is a new and universal prompt that will now appear on all apps to all users. For an e-commerce business, ATT is actually the main issue.
Examples of tracking according to Apple's "User Privacy and Data"
Displaying targeted advertisements in your app that is based on user data collected from other company's apps and websites.
Sharing email lists, advertising IDs, or other IDs with a third-party advertising network that uses that information for retargeting those users in other developers' apps or identifying similar users.
Device location data or email lists sharing with a data broker.
Adding a third-party SDK that combines user data from your app with user data from other developers' apps to target or measure advertising efficiency. It's tracking even if you don't use the SDK for these purposes (e.g., using an analytics SDK that repurposes the data collected from your app to enable targeted advertising in other developers' apps).
The following situations are not considered tracking and therefore do not require user permission through the AppTrackingTransparency framework:
Linking user or device data from your app to third-party data solely on the user's device and not sending off the device in a way that identifies the user or device.
If the data broker with whom you share data uses the data solely for fraud detection and prevention and security purposes, but solely on your behalf (e.g., using a data broker solely credit card fraud prevention).
The impact of iOS 14's New Policy on Facebook and Instagram advertising
All iOS Apps that collect data for "personalized advertising" are now displaying Apple's ATT prompt. It serves as an additional layer of privacy to the current Tracking settings requiring users to either opt-in or opt-out: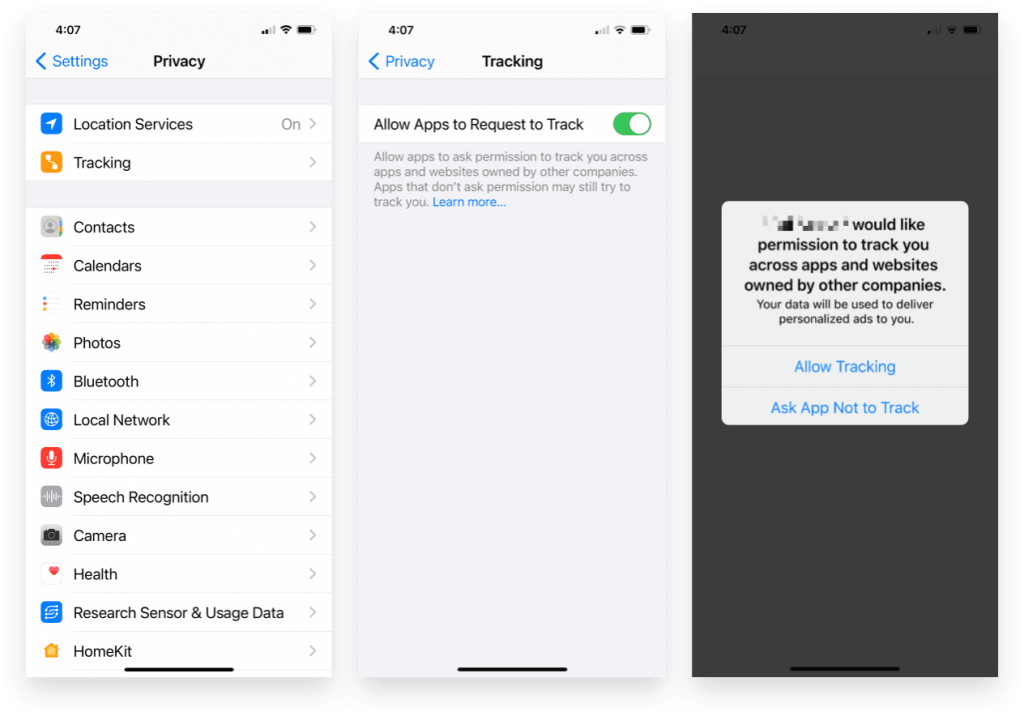 Introducing a similar prompt by iOS 13 regarding geographic information, opt-in rates to allow sharing "with apps when they're not in use" changed drastically – from 100% to below 50%. Facebook states a similar projection now: "In testing, we've seen more than a 50% drop in Audience Network publisher revenue"; and, "Our studies show, without personalized ads powered by their own data, small businesses could see a cut of over 60% of website sales from ads."
The most noticeable effects of this change can be the following:
Tracking Pixel Actions from Facebook ads – tracking like leads, add to cart, purchases, custom conversions, etc., with the Pixel are now under-reported due to people opting out of tracking.
Optimizing Ads for these actions – because the Pixel isn't learning, the ads may not be optimized for people taking the actions.
Retargeting ads – once you create a retargeting audience, anyone who visited your website from an iOS 14 device can't see your retargeted ad (still an unclear issue).
Building Audiences – without data on visitors from iOS devices, these visitors can't go into a Retargeting or Lookalike audience. However, there may be Engagement audiences that they will be in still unclear on some of this).
App Installs – Facebook won't optimize around app installs or other app-related conversions for iOS devices if you are advertising an app.
This change happens only for users on iOS devices who updated to iOS 14. Data tracking still works on Android and Desktop and for people who don't opt out. All other advertisers are also affected by these changes – Tik Tok, YouTube, Pinterest, LinkedIn, Snap Chat, and Google.
This doesn't mean that businesses can't get leads, sales, or action from iOS 14 devices, only that they can't track and optimize as well as before for these actions.
These are Ad Objectives that are affected:
Traffic Ads optimized around Landing Page Views (use the Pixel). But if you are optimizing around Link Clicks, your ads will not be affected.
Conversion Ads optimized around Standard Events or Custom Conversions.
App Installs that target iOS.
Catalog sales that go to your website (Facebook Shops and Instagram Shopping that stay on the platform will still track).
Tracking any Pixel activity with the other objectives will also be affected. The other activities that happen on Facebook, in particular Lead Generation, will still be tracked and reported correctly.
How to prepare your Facebook Ads for the Apple iOS 14 update as an e-commerce business
Get your domain verified – for some reason, Facebook considers this critical now. For tracking activity from iOS users after the ATT prompt, Facebook will introduce "Aggregated Event Measurement."
Use Breakdown reports to understand how many purchases/leads and other events are from iOS devices. This way, you can see how your reporting might be impacted.
Choose which conversion events you will use since Facebook will be limited to 8 conversion events per domain. This includes add to cart, purchase, lead, complete registration and any other custom conversions you have set up.
Focus your ad efforts on getting email addresses, so you don't have to rely on Pixel optimization for retargeting. To do this, you can use lead generation or conversion ads, although lead generation ads will have an advantage with the Apple update.
Invest in Retention & DTC Diversification ASAP, although it will be hard to identify a channel that generates the same or better returns than Facebook and Instagram at the same or better volume.
***
In conclusion, although we can predict that Apple's iOS 14 update will significantly impact the e-commerce industry, there are still many unknowns, so there is no need for panic yet. Familiarizing with the problems and following these suggestions will keep you afloat, although the change will still be noticeable. 
Our team will always gladly suggest creating a native mobile app for your online store, which will benefit your e-commerce business in the long run. At this time, a native iOS app will be a secure way to reach all those users that are now on iOS 14. With a native mobile, you will have a direct channel to your shoppers and increase customer loyalty and brand awareness.