Case study PetKlub
Real-time inventory synchronization
100% competitive advantage
2x improved user experience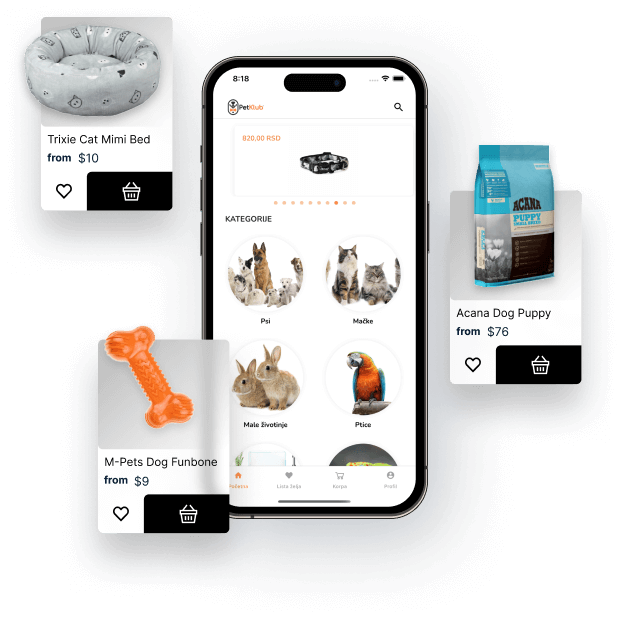 Customer success stories

Industry
Pet Industry
Website
petklub.rs

Social
@petklub.rs
The pet e-commerce industry is booming! Pet brands are constantly seeking innovative ways to enhance customer experiences and drive growth.
Take a look at how our mobile app solution transformed a pet shop's operations, seamlessly integrating their online store and physical locations to create a convenient shopping experience for pet owners.
About PetKlub
Our client is a leading pet shop specializing in pet supplies and accessories. With a strong focus on online sales and a growing customer base, they needed a solution to bridge the gap between their web store and physical stores while delivering an intuitive and engaging experience.
The Challenge
PetKlub faced several challenges in its quest to optimize its online and offline presence.

Customers faced difficulties accessing real-time product information and engaging with the pet shop across various touchpoints. They didn't have the possibility to be in touch with the best deals or informed about new re-stocks.

The absence of a dedicated mobile app resulted in an inconsistent shopping experience between the online and physical channels.
The Solution
Our client had unique requirements, and OmniShop mobile app seamlessly integrated with their webshop and physical stores.

We established a robust API connection between the mobile app and the client's web store, ensuring real-time product catalog, pricing, and inventory data synchronization. This integration provided customers with accurate information regardless of their channel.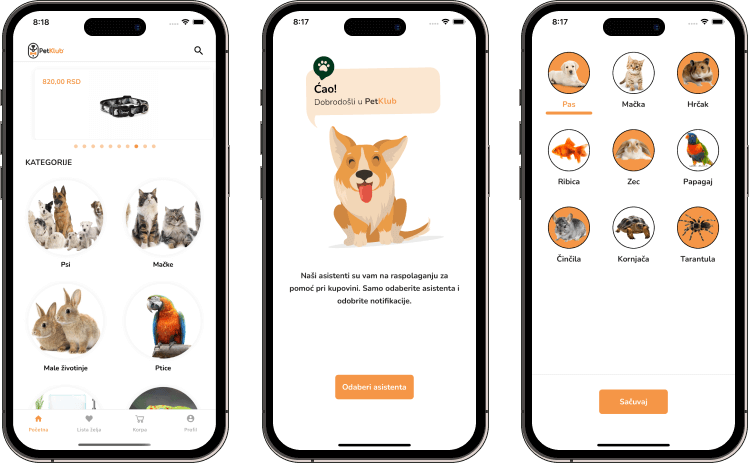 Customers could conveniently browse and purchase products from the pet shop's extensive catalog directly through the mobile app. The app featured secure payment gateways and multiple delivery options, ensuring a seamless end-to-end shopping experience. Push notifications enabled customers always to be informed about new updates and deals.
The Result
OmniShop mobile app improved accessibility, convenience, and customer engagement, increasing satisfaction and loyalty.

The real-time synchronization of inventory and pricing information across channels streamlined the client's operational efficiency.
The mobile app positioned PetKlub as a forward-thinking and customer-centric business, differentiating itself from competitors. The seamless integration of online and offline channels provided a unique selling point in the market.