It's essential to understand the value of returning customers. Acquiring new customers is important for growth. But, retaining existing customers is crucial for business's viability and profitability. Studies have shown that returning customers are worth up to 10 times more than new customers. That's why businesses focus on customer retention strategies.
In this blog post, we will explain why returning customers are so valuable and how businesses can implement strategies to keep them coming back. We'll cover all the tips to make your customers feel valued and appreciated. Whether you're just starting out or want to take your customer retention efforts to the next level, you're at the right place.
Why customer retention should be a priority for your business
It's not easy to start a business or grow the existing one with the current circumstances we all live in. Everyday we read about some brands' layoffs and closures. That's why it's important to do whatever is in our power to keep our business growing.
Here's a question for you: are you focusing more on bringing in new customers or keeping current ones? It's an age-old question. Is customer acquisition more important than customer retention, or vice versa? Both are necessary for businesses. But, mounting statistical evidence shows customer retention is more important.
Repeat purchase is one of the important indicators of customer loyalty to a brand. Whenever customers shop online or in the store, they already know what product they want. That's why they'll go straight to your online or physical store. A high number of repeat purchases indicates a satisfied customer, which increases profitability. Returning customers are also important to success and growth. Also, loyal customers are far more profitable than acquiring a new customer.
Here's an example: if a customer buys from your website every week, it implies that the customer is satisfied with what they have bought so far. It also indicates that the customer will be buying again in the near future. This is one of the reasons why companies like Starbucks and Zara focus on repeat purchase rates as a metric. The way to increase repeat purchase rates is to offer discounts to current customers and special deals.
Your loyal customers are in a relationship with your brand, so don't treat them like strangers. Keeping your current customers happy is key to growth for almost every business. Data shows that customers who are devoted to your business and brand are better for you in the long run. Loyalty programs are considered one of the best ways to engage customers and keep them returning.
Despite the overwhelming amount of data, few companies make customer retention a priority. Companies are missing out on the benefits of nurturing those existing relationships. Remember to leverage your existing relationships to help achieve your growth goals.
Returning customers lead to growth
Keeping current customers happy and making them buy again is key to growth. Here are some interesting numbers:

The probability of selling to an existing customer is up to 14 times higher than the probability of selling to a new customer (Marketing Metrics);
Existing customers are 50% more likely to try new products and spend 31% more, on average, compared to new customers;
New customer acquisition costs have increased by almost 50% in the past five years;
61% of small to medium businesses report that more than half of their revenue comes from repeat customers rather than new business;
86% percent of consumers say loyalty is primarily driven by likability, and 83% say trust.
Returning customers are also more likely to advocate for your company. With social media being a driving force in referrals, anyone with a computer, tablet, or mobile phone can be a brand ambassador. This is important for your business, as 43% percent of consumers are more likely to buy a new product when learning about it on social media.
According to Temkin Group, 77% of customers would recommend a brand to a friend after a single positive experience. Also, people are more likely to buy a new product when learning about it from family and friends. These so-called mini-marketers can supplement your own efforts to bring in new prospects. Additionally, they will cut out a few steps in the customer acquisition process. They are a good friend by passing along a valued referral, and you have the possibility of acquiring new customers. It's a win-win.
The power of personalized communications and loyalty programs
Tailor your communications as much as possible! Personalized messages make customers feel valued. They stand out in their inboxes and contribute to brand loyalty. Many studies show the effectiveness of personalized communications (through email and push notifications). According to research, adding personalization to subject lines can increase open rates by 26%.

Loyalty programs are another great way to create long-term relationships and boost sales. According to the Bond Brand Loyalty Report:
• 77% of consumers say they are likely to stay with a brand that has a loyalty program.
• 70% of consumers are more likely to recommend a brand with a good loyalty program.
• 63% of consumers say they're prepared to modify their spending habits to maximize a loyalty program's benefits.

Reward those who are loyal to your brand: send out coupons and promotions, or create a point program. Feature member-only discounts or special sales that incentivize loyal customers to shop. Do remember that loyalty programs don't need to be just about freebies. Find creative ways to let your returning customers know you appreciate their devotion. Give them a good reason to shop!
Staying in touch with your customers
It's that simple: stay in touch. Don't only reach out to customers with sales opportunities. If it's been a while since you've heard from a customer, reach out just to say hello. A small touch (email or a birthday greeting) may not directly tie to a sale, but it will remind them of your brand.
Chances are, at one point, you've received a survey in your inbox at the end of the year asking, "How did we do?". Customer surveys are great vehicles for feedback. You may ask them how their experience was, or how you can help make the coming year even better. What would they like to see from you in the coming year? What would keep them coming back to your product or service? Would they recommend your product or service to others? Their responses can help you focus your marketing efforts. Plus, your customers will feel valued.
Recurring revenue as a business model
Recurring revenue models are a great way to increase the value of your business. You can create ongoing relationships with your repeat buyers. These relationships make it easier to keep customer's focus and increase their lifetime value. In simple words, more money in your pocket.
The most important thing about recurring clients is that they're predictable. You know exactly how much money will come in every month (or week or day).
The other advantage of returning customers is that they provide consistent income. You can plan and know how much cash flow will come in every month (week or day). It also allows you to scale up your business if things go well.
The most common example of recurring revenue is a subscription service. Customers pay for regular access to a product or service. For example, Netflix offers monthly subscriptions for unlimited streaming video content. Spotify offers subscriptions for unlimited music streaming.
A recurring revenue model makes the customer's life easier by simplifying and limiting choices. You might think that giving customers this deal will only benefit their pocketbooks. But your business will thrive because of the benefits of implementing this model. Here are some of the benefits:
Stabilization
You won't have to guess how much business you can drive in the door each month. If you keep your returning customers, you can count on that revenue, plus any new business that might drop in.
Customer Service
Since you'll interact with the same people, you'll slowly build relationships. This will lead to better customer service.
Marketing
You will know the percentage of subscribed customers and how much profit you'll gain. This means you'll be able to outspend competitors in advertising. For example, you have a product you sell for $10 upfront or $20 monthly. At least 30% of your customers take the recurring offer. The average lifespan of membership is 4 months. Your average lifetime value per customer is $34. However, your competitor offers the same product but without a recurring model. They'll make only $10 per sale. You know you can outspend him in advertising by 3.4% per customer, which is enough to dominate any market.
Get ready to take your business to even more profitable levels!
It is natural for brands to focus on customer acquisition. When you get customers, it is important to shift your marketing strategy to encourage repeat purchases. A good retention strategy supported by data can help you achieve repeat purchases and generate repeat sales. Achieving customer retention can be a challenge, but putting loyalty first is worth the effort.
Returning customers save and earn money at the same time
In case you didn't know, acquiring new customers costs 5 to 10 times more than selling to a current customer. Also, current customers spend 67% more on average than those who are new to your business.
Why do companies focus on great customer service? They want to keep their current customers happy and satisfied. Great customer service is mandatory. Another way to retain customer loyalty is the recurring revenue model.
Recurring revenue is a way to turn a one-time sale into a recurring one. Here's how returning customers can earn and save you money at the same time. Let's say you have a dog grooming business. You could offer a one-time dog grooming session for $50. Or you could ask the customer to join a monthly club that offers unlimited dog grooming for $130 a month. You might think you could lose money if the customer comes in every day. In real life, that won't happen. They will probably only come in a few times a month. But, if you don't offer that deal, they could just find another groomer offering a better discount.
The value of returning customers and benefits
One of the first questions that go through someone's head when they hear the concept of returning customers is whether they're truly worth it. After all, loyal and returning customers will expect a lot out of your brand. After a poor experience, 89% of customers start inspecting the business' competitors. That, on its own, can lead to significant losses. Therefore, many costly changes and supportive maintenance might be required. However, returning customers are more valuable than almost anything else.
That is why you should create a positive experience for all customers. On the other hand, customer lifetime value increases if they become loyal or returning customers. According to research, increasing customer retention by 5% can increase profitability by 75%. Additionally, on average, returning customers are worth up to 10x on their first purchase.
Even if none of the data has convinced you, the real kicker is the share of profit returning customers provide. As we already mentioned, 61% of small to medium businesses reported that over half of their revenue comes from returning customers! Clearly, building long-lasting customer relationships is simply way too beneficial to neglect it.
What to track from returning customers
Every good strategy starts with measuring the progress and efficiency of processes. If you're wondering how to make customers return to your eCommerce business, then you will have to implement the tracking of specific metrics.
Customer Retention Rate
You will be measuring customer retention rate at all times as it's the foundational metric.
Customer Retention Rate = ((NCE – NEW) / NCS)) X 100
NCE – Number of customers (over a time period).
NEW – Number of new customers over the same time period.
NCS – Number of customers at the start of the same time period.
Churn Rate
If you run an ecommerce or retail business, you're likely already calculating some form of churn rate. If not, a short version of churn rate is essentially the number of customers you lose over time

Churn Rate = Number of Churned Customers / Number of Total Customers
Repeat Purchase Ratio
A repeat purchase ratio is a good way to weigh the number of returning customers over one-time customers.
Repeat Purchase Ratio = NRC / NTC
NRC – Number of returning customers (over some time period).
NTC – Number of total customers (over the same time period).
Net Promoter Score (NPS) is another strong indicator of customer loyalty. A high number of promoters means that people are likely to recommend your business to others. Of course, that also generally means that they will repeatedly shop items from your store.

To calculate NPS, you must collect data by implementing a survey or questionnaire after relevant customer interactions. However, the NPS data has to be normalized on a scale of 1 to 10.
Net Promoter Score = % of Promoters – % of Detractors
Promoter – Gave a score of 9 or 10.
Detractor – Gave a score of 6 or less.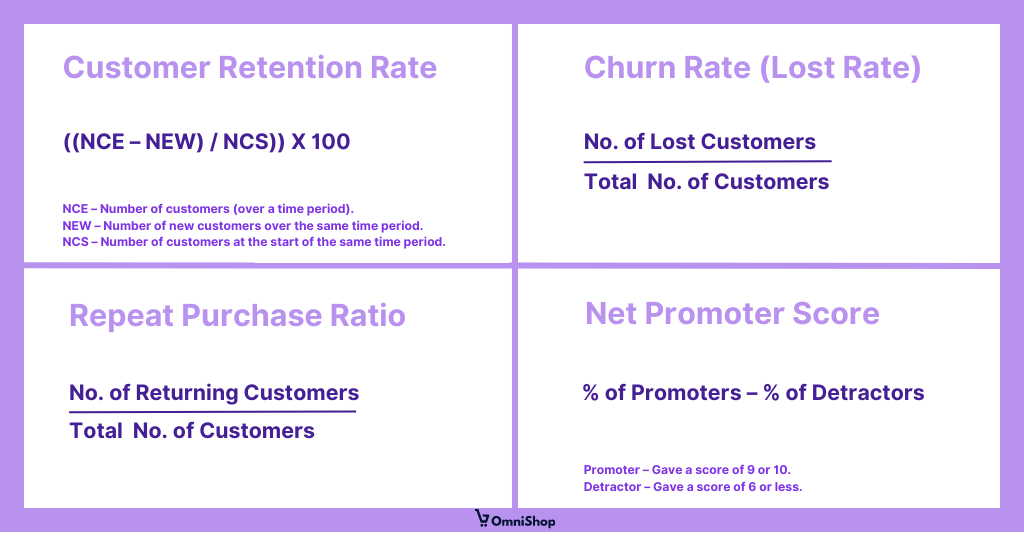 How to keep customers coming back
As returning customers are an important part of eCommerce, many businesses have developed best practices over the years. Here are some tips on how to keep customers coming back:
Offer a user-friendly and visually appealing website and mobile app
Provide fast and reliable shipping options
Offer flexible return and refund policies
Make it easy for customers to navigate and find what they're looking for
Implement a live chat or help center to assist customers in real-time
Personalize product recommendations
Offer a seamless checkout process with multiple payment options
Use social proof, such as customer reviews and ratings
Provide a mobile-optimized experience for customers on the go
Use push notifications and email marketing to stay in touch with customers
Start customer retention programs
Focus on customer service
Collect in-depth feedback
Implement omnichannel approach
There's one very simple idea behind these practices. If a customer keeps returning, the business will make more money than if the customer does not return and buys from another company.
Conclusion
A good overall shopping experience is essential for customer loyalty and repeat purchases. They lead to a better perception of the brand and make it more attractive to potential customers. When customers have a positive experience, they will be more likely to remain loyal and return for purchases. Also, they may share their experiences with others, increasing brand recognition and potentially bringing in new customers.
For eCommerce businesses, returning customers are the lifeblood of their success. Returning customers generate a significant share of sales and offer valuable insights into customer preferences and needs. Effective strategies can foster loyal customer relationships, boosting sales and brand loyalty.
At the end of the day, you have to build your own base of loyal customers and create a strategy that will satisfy them. We're here to support your business in your omnichannel approach. Get in touch with your customers through their mobile phones!