We live in an era where mobile apps have become an inevitable part of our lives. We use them for everything: from ordering a cab/meal to paying our bills. Today, everyone is expecting to be able to finish some tasks or do business via a mobile app.
If you're in e-commerce and want to win customers in an over-competitive environment, a mobile app is the magic trick you need. Standing out is easier if you're offering a great shopping experience. A mobile app for an e-commerce business is a perfect way to reach out to your customers. But do you know the difference between native and hybrid mobile apps? Continue reading – we got this covered.
Importance of mobile apps
The last three years were a paradise for developers. Applications have exploded in popularity, and business owners can take advantage of that! Every consumer has at least a few apps they use on their mobile device. Research shows that the average person has around 40 apps on their smartphones. Can you imagine yours among them?
E-commerce and mobile apps
For e-commerce businesses or service providers, creating an app is a no-brainer. Every business should consider developing the app as it can positively affect growth. Many online stores in fashion, health & beauty, and the pet industry have experienced profit from having the app.
Before jumping into mobile app development, you should answer the following questions:
Why do you want a mobile app for your business?
What will the app bring your customers, and why would they want to use it?
Which pain point will you solve with the app?
What is the development budget?
How quickly does it need to be launched?
What features does it need to include?
Deciding between native and hybrid mobile app
Once you have the answers to all the questions above, we can go further into deciding. What approach would be the best option for your app: a native or hybrid?
In real life, there is no better or worse choice. Both, native and hybrid mobile app, could be great depending on your business model and what you want to achieve with the app. That's why it's crucial to have a business plan before jumping into development! Finding a team to guide you through the process is the best option if you're struggling with ideas.
Usually, there are two main reasons a company decides to build a mobile app. One is to catch up with its competitors. Another reason is it has identified a business opportunity of having its own app. Whatever the reason, executives want the application built out and released ASAP.
But, as most people know, ASAP often means many compromises and decisions need to be made on the way. Both native and hybrid mobile apps can get the job done. But it would be best if you understood specific considerations immediately.
What are the differences between native and hybrid mobile apps?
At first look, it may seem that there are no great differences between native and hybrid mobile apps. But, in reality, the differences are the ones that can define the success of a mobile app.
Hybrid mobile app
Hybrid applications are, at the core, websites packaged into a native wrapper. When you launch a hybrid app, you can maintain two different code bases. That means hybrid apps are easier to build, take less time to go live, and need only one code base.
The problem with a hybrid app is that a UX architect can only build an app that serves both iPhone and Android users. Android and iPhone style guidelines are very different. From a design perspective, any decision becomes a compromise, and the tradeoff may affect the user experience.
Native mobile app
A native app is developed specifically for the operating systems iOS and Android. Once users learn how to use their devices, they want to avoid absorbing new features specific to other apps. Users expect all apps on their phones to operate smoothly. The app's controls, interactions, visual cues, and gestures must integrate smoothly with your platform's extensive style guide.
A native application is designed for a specific operating system. The user experience specific to that operating system is critical for the mobile presence of an app on the market. Native apps are designed for a particular app store. They give the best user experience, considering hardware capabilities and screen size.
Performance as a mobile app's top priority
Your users will expect a great experience. They do not care what approach your team decides to take. They will open the app and expect it to be intuitive and responsive. Even the most vocal advocates of hybrid applications have to admit that native applications win the battle in performance. It's a known fact that hybrid apps don't perform as well as native apps. So, if you choose a hybrid app, be aware that your users' experiences will likely suffer.
While there are a lot of advantages to using hybrid, customer experience for mobile should be a priority. Nobody has time for bad user experiences, your customers and employees included.
A native app is faster and more reliable by its very design. The content, structure, and visual elements are already on users' phones. As a user navigates through a native mobile app, everything loads in a moment, which provides a seamless user experience. User experience is the key to an application's success. Twenty years ago, most websites had a poor user experience. In contrast, today's software development is all about the user experience, including both websites and mobile apps.
Who wins the battle: Pros and Cons
Both native and hybrid mobile apps have pros and cons; sometimes, deciding which one will be the best for a business is hard. You should consider two main things before deciding: the timeline and the budget.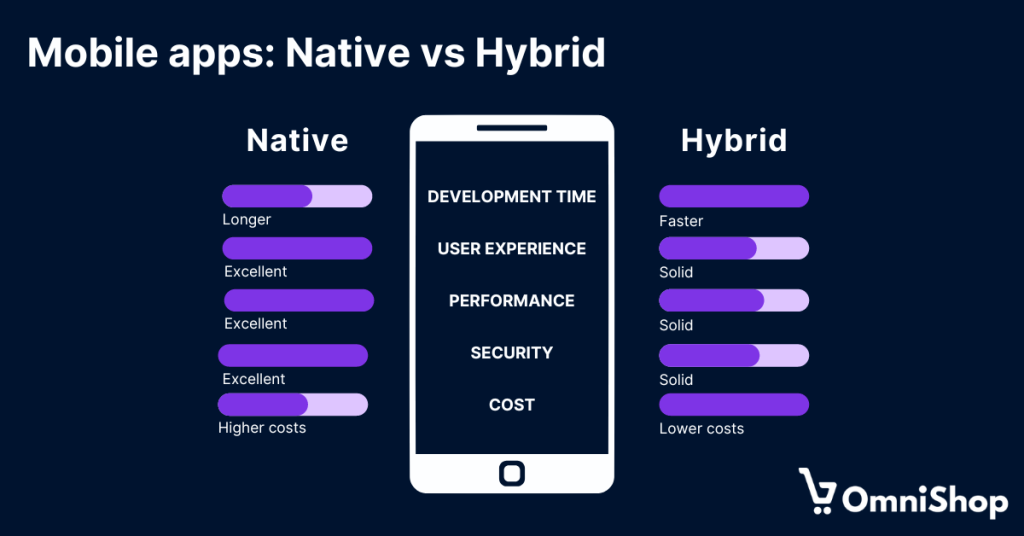 Development time
If a company can wait six months or more to launch the app, a native approach makes the most sense. However, a hybrid solution could be a better alternative if you want your app to be ready in less than six months. Of course, the six-month duration only applies to some cases. For example, OmniShop builds native apps for e-commerce in less than a week. Hybrid apps have less development time than native. They can be built in one source code and released across platforms. Also, there is no API development since it's all handled via the web.
Offline mode
If you want a mobile app that works offline and online, your choice should be native. They work perfectly no matter the time, place, poor reception, or even no reception. Additionally, native apps have the added advantage of functions specific to the OS on which the app is built (e.g., camera, GPS, address book, etc.). Because their websites are transformed into an app, hybrid apps don't work in offline mode.
Security
As for security, a native approach offers the best safety for mobile apps. The security of any app depends on the platform and how well the code is written, but hybrid apps have a higher security risk. Also, the security of hybrid apps depends on the programming language used and the vulnerabilities of web browsers and native apps. If you wonder how a native app can affect a hybrid one? It's because hybrid apps are always built with some parts of a native code.
Speed and performance
Native apps provide a better performance, a highly responsive user interface, and access to all native APIs. Also, they're faster since they are native to the developed platform. Hybrid apps have interface elements or performance-driven issues that users complain about. But, the original investment may be higher. Still, a company will save time and money in the long run while offering a great user experience and industry-standard app performance. Native apps have a recognizable look and feel, as they're a version of the operating system's default app, which can add to the over-user experience. Native apps offer a wide range of functionalities because they leverage the full potential of a mobile device.
Publishing the app
Releasing the same feature on all platforms simultaneously is difficult and time-consuming. Building an app for different platforms may require different release cycles and updates. The big concern can be app approval by the app stores. In this case, native apps usually get approvals after the first submission. You'll need different skill sets to develop, maintain, and manage the same app on each platform. This all adds to development time and cost. But again, the OmniShop team has a complete skill set, so it doesn't always have to be the case.
Ratings and Reviews
The quality of the native apps can be assured through the ratings in the app stores. But, users need to open the app store, search for the app, open it, agree to the terms and conditions, and finally download it. Overall, native apps take longer to download. This could lead to them jumping ship if your app is not useful enough for the trouble.
Conclusion
Let's sum up everything about native and hybrid mobile apps. It seems native apps win the battle regarding speed, performance, and security. So, the question that always comes up is whether it is worth the money. Both native and hybrid mobile apps could be great. The decision depends on your business model and what you want to achieve with the app.
Choosing a hybrid approach may save a company time and money in the short term but will likely result in extra costs in the long run. It is because interface elements or performance-driven issues that users complain about are often in hybrid apps. If you still want to build a hybrid mobile app, make sure to check out this guide to hybrid app development. Hybrid technology is enough for a simple app to please your target audience completely.
Native apps have smooth performance and user experience, which is essential to staying ahead in today's competitive market. Remember that it requires a considerable investment of time and money to bring that idea to life. Thus, define your goals first, and then you'll find technology that meets your requirements.
Each native and hybrid mobile apps have pros and cons, but at the end of the day, a native approach will have the most significant benefits for a company's bottom line.
If you need help defining your goal and choosing between native and hybrid mobile app, the OmniShop team can help you!